It is with sadness that we report that John R. Wood, founder of the oldest active real estate brokerage in Southwest Florida, passed away this week. He was six weeks shy of his 92nd birthday. However, we are also joyful to celebrate such a full and long life.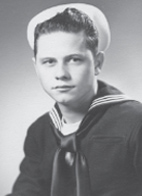 John was born in 1929 in a small town near El Dorado, Arkansas. Growing up during the great depression helped him learn to be both frugal and resourceful.
He and his one-year older brother Jim, and their cousin Thomas, together formed a trio that was infamous for causing mischief. One of their best shenanigans was when they decided to drive the car when they were around 5 years old. One of the boys worked the accelerator while crouching on the floor. The other two managed the steering wheel. John's father was on the porch as he angrily saw them coast down the hill in front of the home, before having a minor crash. They were duly disciplined.
Notwithstanding some of his childhood, John was a good student, and began college at Louisiana Tech before a two-year tour of duty in the Navy, shortly after WWII. One of his tours was on an aircraft carrier, which always amazed him for being a floating city with several thousand residents.
After the Navy, he attended Henderson State College in Arkadelphia, Arkansas, where he met and married Wanda. To save money for graduate school, they worked at the local drive-in, with Wanda at the ticket booth and John in the concession stand.
After graduation, they went to the University of Arkansas, where Wanda earned her Master's in English and John graduated from law school. They then returned to Arkadelphia, where Phil was born and John practiced law with his father-in­law. But after a few years, John decided that law was not his calling.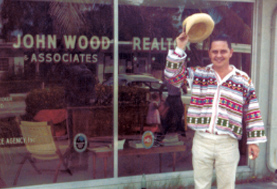 They packed up and followed some friends who had recently moved to St. Pete, Florida. But on a weekend jaunt, they discovered Naples with only a few thousand residents, and decided that was the perfect place. John's father was living in Ft Myers at the time and encouraged him to go into real estate, because he thought Florida might have some good potential.
So Wanda taught in elementary school while John did his required one year as an agent. Then, in 1958, they opened John R. Wood & Associates, on Fifth Avenue South in the 600 block on the south side. Money was tight, so they rented a desk to John Gray State Farm Insurance, and another desk to No-Risk Chemical Pest Control, to help offset the rent.
There weren't a lot of houses to sell in Naples, so many of their sales were lots or acreage. In the 60's, many people were investing in acreage, and flipping the land within a year or two, almost always at a big profit. Thus, land was a big portion of the firm's sales, although they also sold many homes in the still developing Aqualane Shores, and the newer developments of Port Royal, Coquina Sands, and the Moorings. Commercial sales, such as lots on U.S. 41 in the heart of town, also helped the cause, since they sold for enormous prices of around $50,000.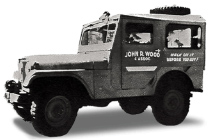 At that time, Florida was known for some less than scrupulous developers, so John focused the firm on ethics. He adopted a slogan of "Walk on it before you Buy", so that acreage buyers would know they were not buying swampland. The firm had a number of 4-wheel drive jeeps over the years, available for the agents to show acreage, and the jeep always had the familiar slogan on the side.
John's legal background was quite helpful as he did property exchanges and many land sales. He passed the Florida Bar just in case the real estate thing didn't work out, but he never actually practiced law in Florida. The closest he came was a time when the one local judge went on vacation, and he had John fill in for a few days.
The town was still small. Total real estate sales for the entire Naples Board hit a record in 1963 at $4.6 million (the entire area). John was active in the local board, and served two years as President. He then went on to serve on FREC, then was President of FAR in 1971. In 1981, he achieved the ultimate honor, serving as President of the National Association of Realtors—quite likely the only NAR President from such a small town.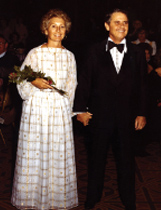 John also set the tone by being very active in various civic and philanthropic groups, including St. Matthew's House, Junior Deputies, United Way, the Chamber of Commerce, Boy Scouts, Naples Community Hospital, the Conservancy, and many more, helping the small town grow and have the public benefits that government budgets could often not afford.
He mostly retired in the mid 90's, but continued to be Chairman of the Board and serve on the Executive Committee. By 2005, when the company was setting pre-recession records, he was minimally involved since the firm now had a strong and diverse management team, and had grown to a size that he never could have imagined back in the 60's.
In 2007, he was awarded the Naples Daily News Citizen of the Year, a special honor even though he had received numerous others in his time. And the company continued to prosper. Today, with 19 offices and over 700 total personnel, they have grown into the most successful real estate firm in the area.
While every other company from those early days has long since disappeared, John R. Wood Properties continues to thrive, thanks to the focus on service, ethics, and philanthropy that John Wood instilled as Founder of the company.