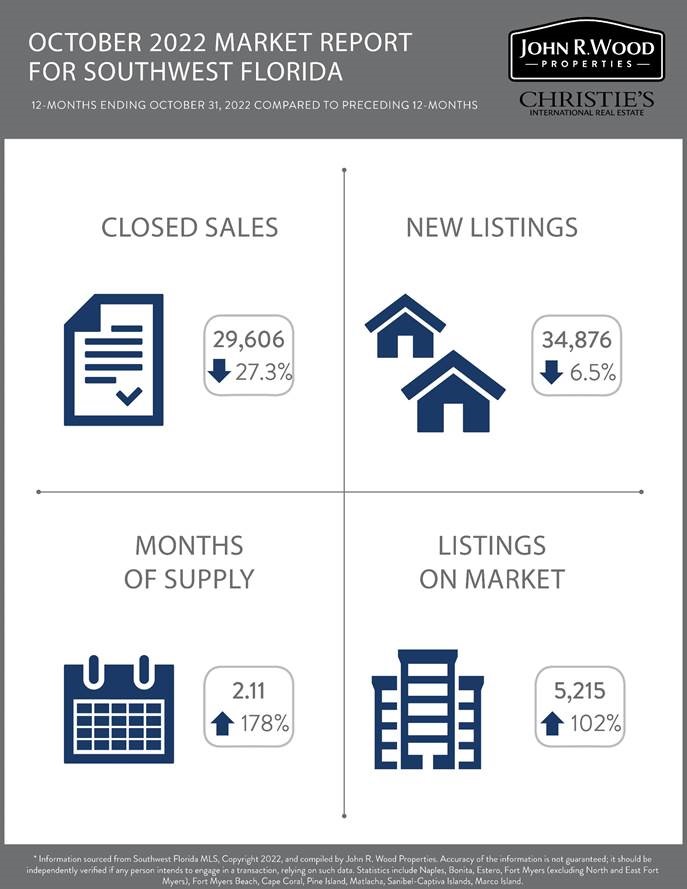 Closed Sales
Closed sales for the 12-month period ending October 31, 2022 were down 27.28% from the preceding 12-months, from 40,710 to 29,606.  The 1,454 sales posted for the month of October were down 40.24% when compared to October of 2021, a time when the market was still posting a record-breaking sales pace. Compared with pre-pandemic trends, October sales were down 21%.
Listing Inventory / New Listings
As of October 31, 2022, 5,215 properties were available, up 102.5% from one year prior and down 3% from the prior month. New listings for the 12-month period ending October 31, 2022 were down 6.54% from the preceding 12-months, from 37,318 to 34,876. For the month of October, new listings were down 33.5% from October of 2021.  2.11 months of supply was posted as of October 31, 2022, remaining well into a sellers' market territory. In Southwest Florida, 6 to 12 months of supply is generally considered a balanced market.
Average Selling Price
The average selling price for the 12-month period through October 31, 2022 was $766,357, up 23.2% from the preceding 12-month period when the average selling price was $621,936.
Summary
While other parts of the country have posted increases in available inventory in recent months, inventory in Southwest Florida has posted three consecutive months of modest declines. This already-declining listing inventory was exacerbated by October's particularly slow pace of new listings due to Hurricane Ian, down 33.5% from the same period last year and down 49% from the pre-pandemic pace. After a temporary disruption during the weeks just after Hurricane Ian made landfall, the rate at which listings have been going under contract for purchase has largely recovered and is now in line with the pre-storm pace. Newly pended sales are now trending with the pre-pandemic pace our market has been mirroring for much of the year.  Hard hit areas such as Fort Myers Beach and the Islands will take more time before sales move back to their normal pace; however, sales are starting to pick up in those areas.  Influenced by Hurricane Ian, year-over-year declines in closed sales for September and October were steeper than those for the preceding months, but recent increases in newly pended sales suggest that such steep year-over-year declines may be short-lived. We will continue to follow the various Southwest Florida markets closely and will keep you informed.
Click here for the full market report